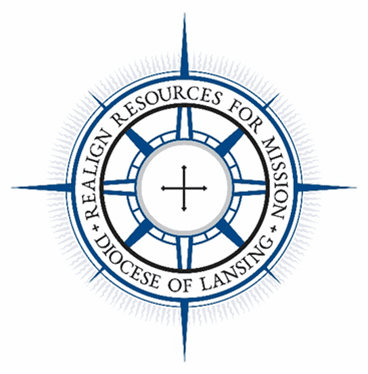 Realign Resources for Mission
Realign Resources for Mission meeting: Starting Monday, November 16th through Thursday, December 17th, the Diocese of Lansing Realign Resources for Mission Committee will be touring the diocese for a series of 71 local parish meetings in order to explain the rationale behind the process, the methodology of the process, and most importantly, to listen to parishioners as to what you think of the process and how it could potentially impact upon your parish positively or negatively. Each meeting will begin at 7pm and will run for a duration of 90 minutes. The meeting will consist of two components: First, a presentation on behalf of the Realign Resource for Mission Committee; Second, small group discussion followed by feedback from parishioners on your hopes and fears for the process; what you love or feel needs to be known about your parish; and any specific suggestions you may have for the future of your parish or the future of the diocese. All are most welcome!
Still have questions and want to know more? Visit the Diocese of Lansing's FAQ on the Realign Resources for Mission Meeting HERE.
The Diocese of Lansing's Realign Resources for Mission Committee are hosting meetings with parishes in order to garner feedback from the lay faithful on Bishop Boyea's vision for the renewal of parish life in the diocese. To read more about how your feedback will impact parish structure in the future, click HERE.
To go directly to the survey and contribute your feedback, please click HERE.