"The entire Christian life springs forth as a new life in Christ through Baptism." CCC 1254
If You Are An Adult Seeking Baptism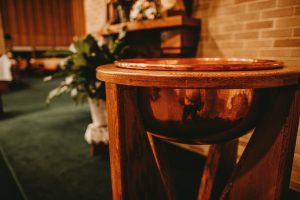 Please contact Tim Cassady by email or by calling 810-659-2501.
If You Are A Parent Seeking Baptism For Your Child:
Please contact Hannah Turchi by email or by calling 810-659-8556 to schedule Baptism Preparation Class.
Information for Parents:
You must be a registered member of St. Robert Bellarmine Catholic Church to have your children baptized here. If you are registered at another parish, you will need the written permission of your pastor to have your child baptized at St. Robert. This is a guideline of the Lansing Diocese in accordance with Church Law. At least one of the parents must be an active Catholic, meaning he or she must be attending Mass weekly and attempting to grow in the life of faith.

Attendance is required at the baptismal preparation session. Even if you have previously attended preparation classes at St. Robert or another parish for other children, you must still attend current sessions at St. Robert. Godparents are encouraged to accompany parents to the preparation class.

Godparents must be fully initiated members of the Catholic Church. (Note: A baptized person belonging to a non-Catholic church may be admitted as a Christian witness along with a practicing Catholic godparent.) Catholic godparents must be confirmed & practicing members who belong to a parish community, attend Mass weekly, and are capable of witnessing the life of faith to your child. Canon 874 states that sponsors must: "…lead a life in harmony with the faith and the role to be undertaken."
More Info on Godparents
If you have been asked to be a Godparent, congratulations!
You now represent the community of the Church in a very privileged and important role.
In saying "Yes" to this invitation, you affirm your readiness to help the parents in forming their child in the faith and to be an example to the child of what it means to live as a Catholic Christian. The introduction to the Rite of Baptism speaks about the godparent's role:"In the Baptism of children, the godparents should be present to be added spiritually to the immediate family of the one to be baptized and to represent Mother Church. As occasion offers, the godparent will be ready to help parents bring up their child to profess the faith and to show this by living it."
The Qualifications & Role of a Catholic Godparent
Only one godfather or one godmother or one of each (Canon 873).

To help the baptized person to lead a Catholic Christian life in keeping with baptism and to fulfill faithfully the obligations inherent in it (Canon 872).

A mature Catholic who will establish a lifelong faith relationship and be willing to walk with the child on their faith journey.
A Catholic role model for the child.


A Catholic who is at least 16 years old and has received the Sacrament of Confirmation and the Sacrament of the Eucharist and who leads an active life of faith. (Canon 874).

Be a practicing Catholic who attends Mass and receives the Sacraments regularly.
Knows, understands, and participates in the Catholic Church community.


If the godparent cannot be the father or mother of the one to be baptized (Canon 874).

Only with a Catholic godparent can a baptized, no-Catholic person serve as a Christian Witness of the Baptism (Canon 874).

A Catholic who lacks the requirements to be a Godparent or a Catholic who is now practicing a non-Catholic faith cannot serve as a Christian witness.